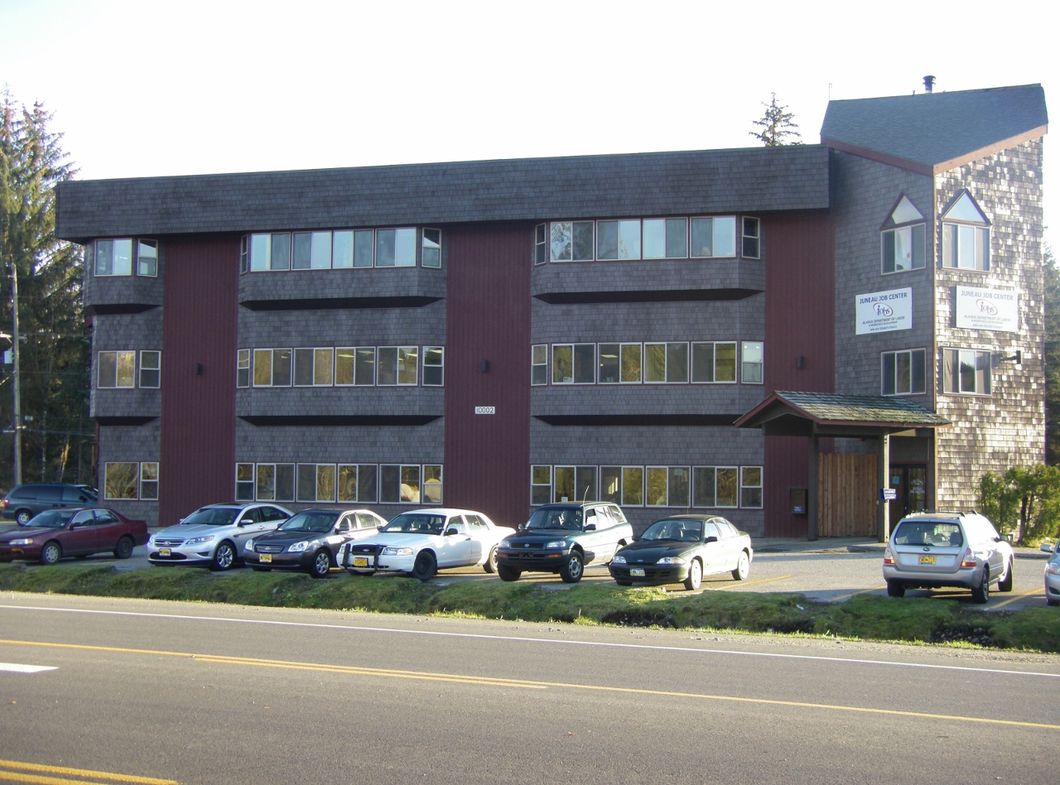 Sale Pending
$2,100,000

Property Type:

Commercial for Sale

Baths:

4 sets

Sq Ft:

16,934

Lot Sq Ft:

54,513 (1.25 acres)
The Juneau Job Center, also known as Willow Park, is for sale at a great price.  This facility is fully-leased to the State of Alaska and throws off lucrative and steady cash flows.  Additional revenue is realized from the coffee stand and food cart operations.
A brand new 10-year lease with the State and an assumable loan at a low interest rate make this an attractive investment.  Now for the details:
The Building:  Willow Park is a 54,500 SF lot at 10002 Glacier Highway, developed with a 3-story office building, plus penthouse.  The improvement is a gross 19,634 square foot building with net rentable area of 15,260 square feet.  There is 1 elevator.  There are 4 sets of men's and women's restrooms,  1 set per floor in the common areas, plus a staff-only set on the second floor.  There is also a full bathroom in the penthouse, which is unoccupied.
Parking:  There are 56 parking spaces.
The Tenants:  There is a single tenant, the State of Alaska, within the building. On August 1, 2017 a new 10-year firm-term lease was begun which will expire July 31, 2027.   In the parking lot there are two ground leases, one a food cart and the second a coffee stand.
The Financing:  Refinancing was recently completed with a 90% AIDEA loan and 10% Northrim Bank loan.  The 90% AIDEA funding is fixed at 3.95% for the 20-year term.  The 10% Northrim funding is a 15-year term and variable interest rate.  Total debt is $1,500,000.  The debt cover ratio is 1.95.  The debt is fully assumable.
The Price:   $2,100,000 per the 2017 appraisal.
*A full cash flow model of the building with historical costs and new lease rental rates is available with a signed non-disclosure agreement
Recent History of Building Improvements:
2007: Decommissioned buried fuel tank and replaced with above ground tank
2008: Installed membrane Roof
2008: All windows Replaced in conjunction with a building envelope examination, new floor finishes, paint, etc.
2009: Rebuilt the Mechanical Room with new Weill Mclain Boilers and Taco Circ Pumps
2009: Connected to CBJ sewer system, abandoned on-site treatment plant
2012:  Building Automation installed
2016:  Elevator motor and pump replaced
2016:  Marmoleum installed in two of the three kitchen areas
2017-18:  ADA improvements will be ongoing in 2017 and early 2018
Disclosure:  The owner of this property is a licensed real estate broker in Alaska.
| | |
| --- | --- |
| Price: | $2,100,000 |
| Address: | 10002 Glacier Hwy. |
| City: | Junaeau |
| State: | Alaska |
| Zip: | 99801 |
| MLS: | |
| Year Built: | 1983 |
| Floors: | 3 |
| Square Feet: | 16,934 |
| Lot Square Feet: | 54,513 (1.25 acres) |
| Bathrooms: | 4 sets |
Tagged Features
Location Map